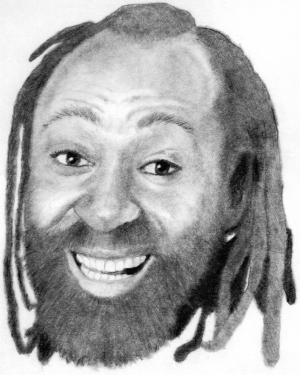 WINSTON GRENNAN 1944 - 2000 BIOGRAPHY
Winston Grennan was born in Duckenfield, in the Parish of St. Thomas, near the southeast coast of Jamaica. He grew up in nearby Dalvey, very close to the sea, to rice and cane fields, and in the midst of a musical family. His mother taught piano, and he learned it very young. His uncles, the Scott brothers, were jazz musicians, who played all around the area. Winston followed them to shows whenever possible, even at a very young age. He and his brother Craswell played "drums", first pots and pans, until they started getting holes in them, which did not sit well with their mother. When the dishes became off limits, they fabricated homemade drums from wood and whatever else they could find. When their mother, Miss Kitty, went off to church events on Sundays, the two brothers would entertain the neighborhood and passers by in their yard. Apparently they used to draw quite a crowd. Winston's mother wanted him to be a doctor, and often frowned on the drumming and playing.
Winston's mother, Kutura Scott Richards, was Jamaican, and his father, Eugene Grennan, was a Panamanian Jamaican. His parents were never married. He found out about his birth father late in his teens, and eventually changed his name from Winston Richards to Winston Grennan. There are many, many recordings that he did under the name Winston Richards as both a drummer and a singer. These include early Toots recordings and one hit record in England that an unscrupulous producer had recorded in Jamaica. This producer told him the tapes were no good. Winston sang his hit song, Joe the Killer (or Joe the Lover) and played on it as well. In the 70's, he got a call from a friend who said, "hey man, you got a hit record over here", which Winston knew nothing about. He never even got a copy and never saw a dime from it. He re-recorded this song in the 1990's, yet to be released.
Winston actually began as a studio singer, and keyboardist with Bobby Aitken and the Caribbeats. He realized that in those times, singers were making even less money than the backing musicians, and at the same time, he made the switch from keys to drums during a chance no-show by the drummer of the Caribbeats in Mandeville. After filling in for the drummer that fateful night, Bobby Aitken told him not to bother again with the keyboards, and to stay with the drums. That advice, and Winston's decision to follow it, would change the course of musical history forever.
Winston Grennan began his professional career in the early 1960's. He left college after one year and while working stints briefly as a bus conductor, a truck driver, and a 30-0 undefeated boxer, he quickly became the most sought-after drummer for Kingston's studio recording sessions. Albums produced at Studio One, Federal Recording Studios, Pottinger's, Chin Randy Studio, Dynamic and Treasure Isle Studios (and others -- basically all of Kingston's recording studios) feature Grennan's distinctive signature style; his rhythms are found on the majority of the recordings produced in Jamaica between 1962 and 1973 when he came to America to study jazz.
"Because I wouldn't leave Jamaica then," Grennan remembers, "the American singers would come down (to Jamaica) to get my beat. Paul Simon, Peter Paul and Mary, The Rolling Stones, Robin Kenyatta -- they came down for me to record for them. So many, many sessions -- sometimes I'd be in three recording studios in one day. And I had the honor to play with Dizzy (Gillespie) at the National Arena in Jamaica -- the concert was on TV and made all the papers. A few years later, I played with Dizzy at the Montreux Jazz Festival in Switzerland, and that was great, too."
Grennan has provided the beat for hundreds and hundreds of singles and albums, recorded in Jamaica, Europe and in the US. His credits in Jamaica include nearly all the songs recorded by Toots (Hibbert) and Jimmy Cliff between 1962 and 1973, and (uncredited until the boxed-set "Songs Of Freedom" was released in 1993) for Bob Marley's first several albums which included the mega-hits "One Love," "I Shot The Sheriff," "Rock My Boat," "Three Little Birds" and "Concrete Jungle." Re-released albums of Jamaica's "oldies" showcase Grennan's drumming, but more often than not, as is the case for other musicians on the tracks, he hasn't been credited. (See Partial Discography on the music link)
Grennan realizes that, "those who truly know the music of Jamaica recognize my style, my technique; they know I was drumming on those songs even if my name isn't listed. They know I was there involved in reggae music from the beginning, and the contributions I made to reggae music. Just ask anyone who was there, in Jamaica, those years. My name is stilled called in Jamaica, and I am well-recognized when I go down to record with Toots." Unfortunately, much of the history written about reggae was not sourced from the artists who were actually there on the scene. Thus, Winston's name and accomplishments have been left out of the so called "definitive" books on reggae.
Grennan is the true originator of the "one-drop" reggae rhythm which gained international recognition when record company mogul/producer Chris Blackwell began promoting Bob Marley. Prior to 1972 and reggae music becoming a world-wide phenomena, Grennan recorded "hundreds and hundreds of songs, hits after hits" in Jamaica for Toots, Marley, Jimmy Cliff, Peter Tosh, Judy Mowatt, Gregory Isaacs, Dennis Brown -- virtually every Jamaican singer and group (The Clarendonians, The Cables, The Ethiopians, The Techniques, Byron Lee and The Dragonnaires, The Heptones, The I-Threes, The Melodians, and scores of others) who stepped up to a microphone in Jamaica between 1962 and 1973. His discography from those years in Jamaica -- what he remembered -- is lengthy and impressive. In those years, he and his musical colleagues recorded daily, nonstop, and there are hundreds of songs he didn't remember, until sometimes hearing himself, and his signature licks. He never kept a list of artists or songs—playing was his job, and his first love.
After being invited to the States by many of the visiting recording artists, Winston finally made a plan to broaden his horizons, and hoped to study jazz (which he did for a short time in NYC). He carried his new passport under the driver's seat of his car for many weeks, before making his move. In 1973, Jimmy Cliff was about to go on tour, and Winston said to him that he was sorry, but couldn't go. The next day he drove a friend to the airport, gave away his car, and flew to New York City. Once in America, Winston immediately starting recording with jazz saxophonist Robin Kenyatta, (his first rehearsal was the day after he landed) and soon found himself called for recording sessions with the likes of Aretha Franklin, Clive Stevens, Deodato, Marvin Gaye, Herbie Mann, Michael Kamen, Little Anthony & The Imperials, Tomorrow's Children, Garland Jeffreys, Karl Berger - and many others too numerous to list. Grennan's sound can be heard on "Mother And Child Reunion" (Paul Simon), "Roundabout" (Peter Paul and Mary), "Goat's Head Soup" (The Rolling Stones) all recorded in Jamaica. "In The Shade Of A Tree," "Blue Horizon" (Eric Gale), "Terra Nova" and "Stompin at the Savoy" (Robin Kenyatta), "Brainchild" (Clive Stevens) and many more were recorded in the United States. Grennan's "licks" have appeared on CBS, Atlantic, Elektra, Island, JVC, MGM, Motown, RCA and Warner Bros. labels. He performed in venues ranging from Madison Square Garden, London's Palladium, The Paradise Theatre and The Ritz in Paris; in Japan, Australia and in Africa, and performed at the Montreux, Nice and Norway Jazz Festivals many times. Grennan is endorsed by Sonor Drums, Sabian Cymbals, and Pro-Mark Drum Sticks.
Winston has a few movie credits to his name, too. He performed his original song, "Savior," for "NINE AND A HALF WEEKS", the somewhat steamy movie that established Kim Bassinger and Mickey Rourke (unfortunately, the song did not appear on the soundtrack, but is on Winston's "Clean Slate" CD) Filmed on location in Norway during a concert, Winston is featured in Kid Creole's FRESH FRUIT IN FOREIGN PLACES (soon to be re-released) and he performed and acted in Perry Henzell and Chris Blackwell's film, THE HARDER THEY COME. Winston's drumming is also on every track of the same soundtrack album, which is listed as one of the top 500 albums, and top 15 soundtracks of all time, by Vanity Fair Magazine. Although filmed in Jamaica in the early 70's, THE HARDER THEY COME continues to be one of the most popular films ever to come out of Jamaica. Two of his songs are featured in the 1995 movie, SLEEPY HEADS, by cinematographer Yoshifumi Hosoya, whose films have been selected for inclusion in -- and won major awards in international film festivals around the world. Winston made a live musical appearance in the soon to be released movie SOHO, filmed in NYC in 1999.
Grennan was also the original drummer for Kid Creole and the Coconuts, an American-based group which shot to fame in the early 1980's. He did at least two albums and several tours with Garland Jeffreys in the late 70's, including the highly acclaimed "Ghostwriter" LP. Breaking away from his own album's recording schedule and recording for others, WINSTON GRENNAN SKA ROCKS BAND backed renowned Jamaican singer Pat Kelly and The Clarendonians, King Bravo and others. The Ska Rocks Band featured David Oliver on keyboards for over seventeen years, and Andy Bassford on guitar for nearly fifteen years. Ska Rocks played "Swegway" music, as he liked to call it- more than simply reggae -a blend of many kinds of music that Winston played over his distinguished career- jazz, rock, R&B, ska, and reggae- elements that added freshness and vitality to complement the traditional feel of the reggae grooves. He was hoping to do a jazz album in the future, stating that "jazz in my blood. I was raised in a family of jazz musicians, so it's natural for me."
Drum Machines came to the music scene in the 1980's. Winston knew when he heard the first "synare" drum, that he was in trouble, and the music was in trouble too. Many drummers of Winston's caliber lost their main livelihood with the widespread use of drum machines. It was cheaper for producers and record labels to just hire one or two people to do the backing tracks, and the lack of work made it very difficult to survive. Winston was offered several record contracts in the 1980's, all of which he refused. He later regretted not signing then to a major label, as the record companies tightened their belts, and contracts became more scarce. Winston continued to work various incarnations of the Ska Rocks Band, in between tours with Toots and other artists for over 20 years. The nightclub scene had also tightened its belts as reggae bands proliferated. Yet few, if any, came close to delivering the diversity and punch of Ska Rocks. To date, few bands have been fronted by a drummer, much less a drummer as skilled as Winston Grennan. Many musicians have said that he was "the best drummer in the world".
In his last year, Winston recorded drums on several tracks of the Martha's Vineyard local reggae anthology "Back To the Island", produced by Peter Simon, the well known photographer and reggae aficionado. Winston also sang the title track on this compilation, "Island Vibrations", a hauntingly sweet tribute to island life and love written by Vineyarder Mike Benjamin. Winston played the drums and did some vocals for Anthony Pierre's new CD, "Obeah Accompong- Mind Revolution" also recorded in late winter 2000 . Winston's own "Clean Slate" album, consisting of 8 tracks recorded in 1999 and an additional four re-released from 1980's archives, was released on Niki records in March of 2000. He also recorded a number of new tracks, and continued working on the "Time Flies" album, all of which will be released in the future.
In April of 2000, Winston was diagnosed with "incurable" metastatic lung and bone cancer. The treatments that had the greatest likelihood of curing him or prolonging his life were very expensive, and were only available in Mexico and Germany. Although a great effort was made on his behalf, Winston never received the sought treatments, because of their prohibitive expense. Winston Grennan passed away on October 27, 2000, with his wife, on Nantucket Island, Massachusetts. He was 56 years old. (see link on alternative cancer treatments).
A recipient of a Certificate of Appreciation for Music Development for his "pioneering efforts in music" from Jamaica's Prime Minister, Winston Grennan was nominated to the Jamaican Music Hall of Fame. Reported to be the only drummer who plays his cymbals behind the drum kit, it has been said that anyone in the world who has access to a radio has heard the rhythms from this gifted and talented musician. " Yeah, that's probably true," confirmed Grennan, "but I've no mind with that. I just want to continue making music. Hopefully they'll listen to what I have to say- help each other, educate our children, don't be prejudiced against one another and live right." Winston's music, and the one-drop beat that he created, have gone far around the world, and changed the course of musical history forever. For a life well-lived, and full of music, we give thanks. For his gifts of music, laughter and love, the world will never be the same. He has joined his musical friends on the other side. As he said before he left, "They must need a drummer in heaven".
New York Times - November 4, 2000
Winston Grennan, Jamaican Drummer, Is Dead at 56
Crystallizing the reggae rhythm known as one drop
By JON PARELES
Winston Grennan, a Jamaican drummer whose extensive studio work crystallized and disseminated the fundamental reggae rhythm called one drop, died on Oct. 27 in Nantucket, Mass., where he had moved this year. He was 56. The cause was lung and bone cancer, said his wife, Ellie Hiteshew Grennan.
The one-drop rhythm is a sparse, unhurried beat with a bass-drum accent --the one drop--on the third beat. Understated, distinctive and supremely adaptable, it has made its way into music around the world.
Working with recording-studio bands in Jamaica, Mr. Grennan perfected the one-drop beat, and he appeared on important recordings, including the soundtrack to the 1973 film "The Harder They Come," early Bob Marley singles and Paul Simon's reggae-style hit "Mother and Child Reunion."
Mr. Grennan started playing homemade drums and pots and pans as a child. As a teenager he recorded and performed as a singer under the name Winston Richards; he also played keyboards with Bobby Aitken and the Caribbeats.
He had a string of 30 undefeated bouts as a boxer in the early 1960's, andused some of the prize money to buy a full-fledged drum kit. As his reputation spread, he became a session drummer in Jamaica's leading recording studios.
Mr. Grennan notched down the speed of rock steady with the one-drop rhythm, which became established as the core of reggae, and he was an influence on leading reggae drummers, including Carlton Barrett of the Wailers and Sly Dunbar.
Working with leading Jamaican producers like Bunny Lee, Winston Riley, Prince Buster, Leslie Kong, Byron Lee, Lee Perry and Coxsone Dodd, he recorded hundreds of songs from 1963 to 1973 at a time when Jamaican ska was giving way to the leaner, more steadfast rhythms of rock steady and reggae. His extensive recordings with Toots and the Maytals included the 1973 album "Funky Kingston" and the 1968 single "Do the Reggay," the first song to have the word that would later be spelled "reggae" in its title. He also recorded with the Bob Marley, the Melodians, the Heptones, Desmond Dekker and dozens of other singers and groups. He appeared in "The Harder They Come."
In the early 1970's Mr. Grennan performed with Dizzy Gillespie at the National Arena in Kingston and appeared on Paul Simon's 1972 solo album, "Paul Simon." He left Jamaica in 1973 for the United States, hoping to play jazz and broaden his music; Mr. Gillespie hired him soon after he arrived. Mr. Grennan lived in New York City, Florida and New Jersey before settling in Woodstock, N.Y., in the early 1980's.
In the United States, Mr. Grennan led his own groups playing jazz and reggae, and he continued to work as a sideman. He was a founding member of Kid Creole and the Coconuts, and he played jazz, reggae and rhythm-and-blues with musicians, among them Marvin Gaye, Herbie Hancock, Garland Jeffreys, Freddie Hubbard, Minnie Riperton and Eric Gale.
He performed with Mr. Gillespie at the Montreux Jazz Festival and backed up Toots and the Maytals on the album "Skafather," which was nominated for a 1998 Grammy. The government of Jamaica awarded him a Certificate of Appreciation for his contribution to the development of popular music. Mr. Grennan released his fifth album, "Clean Slate," with his Ska Rocks band in March.
In addition to his wife, he is survived by 11 children.
2000/10/30 The Observer, Jamaica
Winston Grennan passes on
HOWARD CAMPBELL, Entertainment editor
DRUMMER Winston Grennan, the man who created the renowned One Drop beat, died on Friday at his home in Nantucket, Massachussetts. He was 56. Grennan, who was diagnosed with metastatic cancer in April, reportedly passed away after experiencing respiratory complications.
"He was doing okay even into the night before and this sudden turn was unexpected," said Sharon Jewel, a friend of the Grennan family. "He didn't wish to be kept alive on machines so he went out peacefully."
Grennan is the fourth Jamaican artiste to have died in October. On the 19th, rocksteady singers Tyrone Evans (of The Paragons) and Hortense Ellis passed away and on Monday, singer/actor John Jones succumbed to an heart attack.
Guitarist Rad Bryan, who recorded and toured with Grennan up until 1999, remembers his longtime colleague as a humble person and a quality musician. "A very bright person, nothing bothered him...he was always the nice one," Bryan told the Observer yesterday. "As a drummer, he was very innovative; in the later years he became more jazz-oriented."
Born in Duckenfield, St Thomas, Winston Grennan became a studio musician of repute in the 1960s. He was a member of the resident band at Dynamic Records and played on hit records for Toots and The Maytals (Country Roads), the Wailers (during the group's years at Beverley's Records), The Melodians (By The Rivers Of Babylon), Slim Smith (Conversation), and Jimmy Cliff (The Harder They Come, You Can Get It If You Really Want).
Grennan was a member of Toots' touring band for several years and after migrating to the United States in 1973, collaborated with several big-name performers including jazz great, trumpeter Dizzy Gillespie and guitarist Eric Gale.
When pop singer/songwriter Paul Simon visited Jamaica in the early 1970s to record an album, Grennan played drums on his classic hit, Mother And Child Reunion, which was recorded in Kingston at Dynamic Studios.
During the 1980s, Grennan, between gigs with Toots, toured and recorded with Kid Creole and The Coconuts, a band that blended their Creole influences with pop sounds.
But Grennan is best known for perfecting the One Drop, a lazy beat that was the hallmark of roots bands throughout the 1970s. Bob Marley and The Wailers perfected the sound during that period, with the reggae king paying homage to the sound on his 1979 hit, One Drop.
Winston Grennan is survived by his wife Ellie, 12 children and numerous grandchildren.